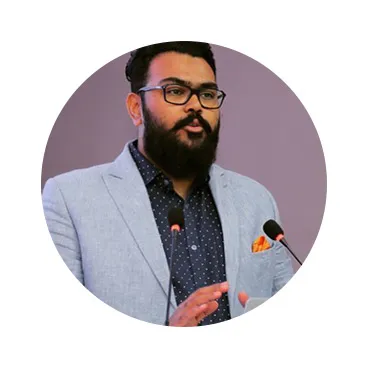 Book Appointment
Dr. Kaarthik Sriprakash
Dr Kaarthik Sriprakash is an Ophthalmologist who specialises in advanced cataract [including stitch-less, bandage-less eyedrop phaco surgery] and refractive surgery such as LASIK, Bladeless LASIK, ReLEx™ SMILE. He communicates clearly and empathetically with his patients and firmly believes in the "Patient-first" approach. His in-depth knowledge of the subject and his communication skills enable him to understand the core of his patient's issues.
He also believes in making his patients understand the root of their eye problems and pro-actively works with them through an individualised and customised approach to solve their eye care needs. He is an avid enthusiast of upcoming and newer technologies and has himself presented his academic work in many international conferences.
Speciality:

Advanced Cataract Surgery, LASIK/Refractive Surgery, ReLEx™ SMILE, Ophthalmology

Degrees:

MBBS, MS[Ophthalmology], Fellow of Phaco and refractive surgery [F.P.R.S], Fellow of International Council of Ophthalmology [FICO] (UK)

Training:

After having completed his M.B.B.S degree from the prestigious Bangalore Medical College and Research Institute, Dr Kaarthik Sriprakash went on to complete his Master of Surgery [M.S] in Ophthalmology. He further immersed himself in superspeciality field of Phaco [Stitchless cataract surgery] and Refractive [LASIK, PRK, SMILE, Keratoconus] surgery under the aegis of Rajiv Gandhi University of Health Sciences. During this time, Dr Kaarthik also passed the prestigious Fellow of International Council of Ophthalmology [FICO] (UK) examinations. He has trained under the best world-renowned surgeons in the field of Ophthalmology.
Awards and
Honours
Best Paper of Session" at the American Society of Cataract and Refractive Surgeons conference held in San Diego, USA in 2019.

Ophthalmic Hero if India" award in 2020 by the All India Ophthalmic Society [AIOS] for his outstanding achievements in the field of Ophthalmology

Produced and co-produced numerous international award-winning educational and training films in the field of Ophthalmology

Invited as faculty for training other eye doctors on surgical and medical aspects of eyecare

Distinction in the subjects of Pharmacology and Ophthalmology