Super
Speciality
Eye Care
Hospital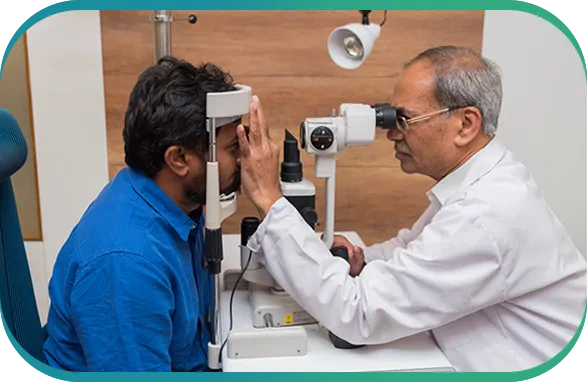 At Sri Eye Care, an NABH certified Eye Hospital located in the heart of Bangalore, we strictly believe that our patients are at the center of our ecosystem. Our eye doctor strives to ensure a homely environment for your eye consultation and treatments.
Incorporated with state-of-the-art equipment and technologies, we redefine the future of Eye Care with us. Your Clear Vision is our Focus!
Know More About Us
Our Eye Care Treatments at a glance
Your Eyes are an important part of your body. Our Eye Specialist helps you keep them safe for better vision. At Sri Eye Care, an Eye Hospital in Bangalore, We provide best in class Ophthalmic Treatment and care for your eyes with a high level of skills and expertise combined with cutting edge technologies.
We promise you with the Best Eye Care - from diagnosis, treatments, consultation and more. No hidden charges. We strive for a homely environment for our patients to feel safe and secure.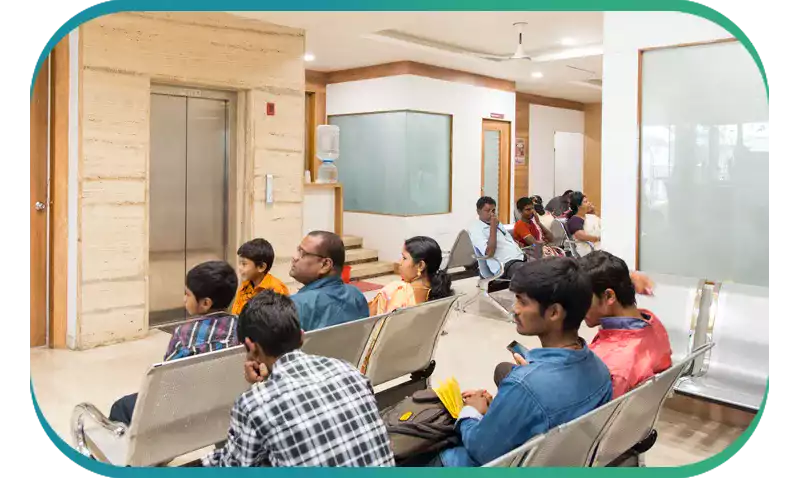 Avoid Waiting
Times in Hospital
Frustrated with long term waiting in Hospital corridors?
Yes, we understand your concern completely and that's why our Eye Hospital in Bangalore has made it easy for you to come for Eye Care Consultation. All you have to do is to book your appointment Online and get your turn.
We strive to make you happy on every front!
Book Appointment
Proud to be Recognized by all Major Medical Insurers














Consult Top Doctors
Effortlessly
How can we
help you
Our expert team of Eye Doctors at Sri Eye Care Bangalore will bring you back to vision with full fledged screening of your eyes, proper diagnosis and effective treatments. With State-of-the-art Technologies in the Ophthalmology sector, our Eye Specialists strive to serve you better and promise you the vision with which you see the world better with the highest level of Eyecare Services.

Share your Details with
Our Team
Medical history and previous
treatment reports
Receive Confirmation
Within 2 Hours
Detailed Treatment plan with
estimates in 2 hours


Your Hospital Visit
Visit our Hospital for Consultation
Returning Home
Post Eye Consultation and Treatment,
return home with satisfaction

General
Query
Consultation
Doctor Selection
Payments
Security
Frequently Asked Questions
General
Why do I still need to visit an eye doctor if I am seeing well?

The Eye is a very sensitive and delicate organ composed of many important structures each working in harmony with the other to produce vision. Power check and glasses prescribed by Eye Doctors are only part of the Eye Examination. The function of all these small structures needs to be examined on a periodic basis by a qualified eye doctor so that any pathology of these which can harm vision can be caught at an early stage. Also, another crucial part of the glasses power testing is the refraction after dilatation. This is extremely important especially in children as well as adults with a lot of strain in the eyes.
What is the process of consulting with any of the Eye Doctors at Sri Eye Care

Once you book an appointment with our Eye Hospital in Bangalore, our Eye Care coordinator will confirm your appointment's date, time and the Eye Doctor. If you choose to walk in without a prior appointment, then you will have to register yourself at the front desk.
Once you are checked-in, one of our optometrists who is assigned to you will greet you and begin the preliminary testing. They will also ask for relevant information about your eye and general health. Once the initial Eye Examination is done, your file is wirelessly transferred to your preferred Eye Specialists.
Your Eye Specialist will perform a thorough evaluation of your eyes. If required they may ask for a dilatation of your eyes, either to relax the strain in the eyes for accurate power testing or for examining your retina or both.
Once the Eye Vision Examination is completed, your Eye Specialist will advise you on the most appropriate vision treatment for your eye condition.
If your pupils are dilated, your Eye Doctor will call you for a Post Mydiatric Test [PMT] to verify your final glasses prescription on the next day. The PMT test is NOT charged extra. It is an additional step taken by us to ensure that the glasses that we prescribe are extremely accurate.
If your vision specialist has advised any diagnostic eye scan, you may have to take another appointment at a later date for the same. If a slot for this available on the same day, our care coordinator will intimate you of the same.
Can I come alone for an Eye Test?

It is always better to bring someone along with you for your eye testing. If our Eye Specialist decides to dilate your pupils, then you will have blurry vision for 6 hours. Driving or seeing bright objects or doing near work will be difficult for the duration of the action of these drops i.e 6 hours. However if it is an emergency, please feel free to drop in alone. Our Eye Hospital Specialist will defer dilating your eyes to another date unless it is mandatory for immediate treatment for your condition. We also recommend you to bring sunglasses to reduce the irritation caused by bright light after the dilatation.
Query
Can I postpone my Eye Surgery?

If you have been advised any Eye Surgery by your Eye Doctor, and you are unable to undergo the procedure immediately, then it is better to discuss the same with your Vision Specialist. Your specialist is the best judge to determine how soon you need to undergo the Eye Surgery procedure and would definitely be able to advise on the same. Neglecting the advise by your Eye Specialist may cause more harm to your eyes.
Do the tests carry any risks or side effects?

The tests are performed by our team of experts under the supervision of our specialists in our Eye Hospital in Bangalore. Most tests are non-contact tests and are safe for the eyes. For certain tests, the use of lubricant and dilating eye drops are suggested. Our team will inform you about this before the use of these drops. Dilating drops relax the accommodation muscles of the eyes, and hence you will have difficulty for focussing for near for upto 8 hours after its use. All instructions and information are circulated to the patients before undergoing Eye Examinations in our Eye Care Centre Bangalore.
Am I safe to drive after undergoing Eye Surgery?

Depending on the type of procedure that you have undergone, the healing time for visual recovery would vary. For E.g most patients who undergo Cataract Eye Surgery at Sri Eye Care, An Eye Care Hospital in Bangalore, start driving during the day after 24 hours. Once your vision recovers and the eye has healed to a satisfactory level, your eye doctor would permit you to resume your driving.
Is there any food diet I have to follow during the Eye Surgery?

Most Eye Surgeries are performed with topical Anesthetics or local Anesthetics. Therefore there usually are no additional dietary restrictions that you have to follow during your Eye Treatment other than what has been normally recommended by your family doctor. However, if any kind of general Anaesthesia has been planned, then you will have to be on an empty stomach for a designated period before your Eye Surgical Procedure.
Consultation
Do I have to book an appointment before visiting the hospital?

Yes, Online Eye Appointments help you to know the Real-time availability of our Eye Doctors in our Eye Hospital, Banglaore. You can plan your travel to our hospital, based on your slotted consultation time. It would also be advantageous as waiting times are lesser for people you have a prior appointment.
Do I have to take any tests before Eye Consultation?

If this is your first visit to our Eye Hospital, our Ophthalmologists examine your eye and direct you to take the necessary tests. If you have been instructed to take any other eye test before visiting your Eye Doctor, then it may be optimal for you to do the same to aid in faster and better care for your eyes.
Can I change my Eye Consultation schedule?

Yes, you are allowed to change your schedule in our Eye Hospital. We will reschedule your appointment at your convenience. We will check your reschedule request with our Ophthalmologist's availability. Depending on the availability of our Eye Doctor's slots, we will update your schedule as soon as possible.
Is Eye Consultation(Online) available?

Yes, for the safety and convenience of our patients, we have added the option of Video Consultations. However, as you may be aware, there are many limitations of Online Consultations in the field of Eye Care since most Eye Examinations are conducted via Machines and Microscopes. Hence we request you to limit Video Consultations for immediate and urgent Emergency Eye Care. Your video consultation request is processed with the Ophthalmologist's availability and the schedule is sent to you within a short time.
Doctor Selection
How do the doctors are selected?

We take special attention and consideration to choose the right Eye Expert to give you the Best Treatment and Medical Care. At Sri Eye Care Bangalore, we follow strict norms in doctor selection and trust us, our Ophthalmologists are the Leading Experts in Our Hospital.
Am I being provided with the doctor's information before/after the Eye Consultation?

We have made this information available in an open-source at our website in section "DOCTORS". You can access the profile and expertise of our Eye Doctors. Also, during your visit, our doctor's profiles are available in printed form. You have easy access to know more about us.
Can I select the Eye Doctors of my choice?

You can select the Eye Doctors of your choice. At the time of your appointment, it is much needed to specify your doctor to consult. Your schedule is charted out with regards to our doctor's schedule. If your selected doctor is unavailable, you are given a choice to consult the other available doctors or you can reschedule your appointment later in our Eye Hospital.
Are there specialist doctors available for Special Eye Care?

Yes. Eye Specialists for different departments are available with the leading experts to service you with the best medication. At Sri Eye Care, you can take Eye Care Treatment for comprehensive eye illnesses and conditions in Bangalore.
Payments
Can I pay my medical bills through Net Banking?

We accept all modes of transaction including Cash, Major credit and debit cards, UPI and Net banking. However, transactions through Netbanking are approved on a case to case basis only.
Do the hospital partner and accepts health insurance coverages?

Yes. We do accept and process health insurance. Kindly check with the available medical insurers and ensure you avail your health insurance coverages.
Do I get any discount for my medical bills?

We request you to check with our management to know about the discounts that are currently available.
Do I get support from the management for payment processing?

Yes. Our staff will assist you with the payment process. Any clarifications required on the same will be addressed to you by our staff and management. We are happy to assist you with your requests.
Security
Is my personal information secured?

We follow strict regulations and norms to protect your personal information. We assure you that your information is protected and we comply with the government policies on protecting your data.
Does the hospital have any firewalls?

Yes, Our systems are protected with high end and advanced technologies to protect our patient's information. There is no possibility of data breach.
Will I be informed about the disclosure of my information?

Yes. You are intimated and informed about the information disclosures. We extend our support to clarify your concerns on the same.
Are my personal belongings collected and stored securely?

As a principle, we do not collect and store any personal belongings from our patients. You are requested to hand over all personal belongings to your attendant. The management of Sri Eye Care cannot be held responsible for any loss of personal belongings.
What our users
have to say
Do you want to enquire or
Book an appointment?
Looking for the perfect place for your Eye Treatment and better Eye Care in Bangalore?
Your privacy is extremely important to us and we take all reasonable steps to ensure that your information is secure. For more details on how we collect and use personal data and what rights you have over your personal data, please view our privacy policy.