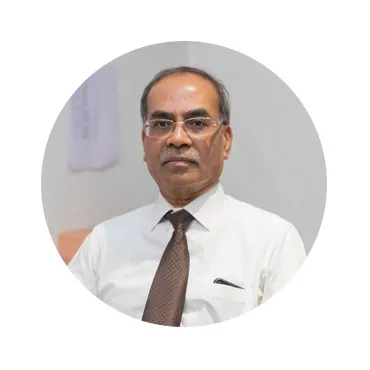 Book Appointment
Dr. Sri Prakash KS
With over 40 years of experience in the field of Ophthalmology, Dr Sriprakash is one of the most experienced eye doctors in the state of Karnataka. Soft spoken and a man of few words, Dr Sriprakash's career began 40 years ago in the field of eye care after having trained from the prestigious Minto Regional Hospital. He is one of the earliest eye doctors to perform stitch-less advanced micro phaco cataract surgery. He is also an expert in retinal diseases including diabetic retinopathy.
Dr Sriprakash envisioned Sri Eye Care in the year 1994 to provide quality eye care at the helm of today's technology, to aid the fight in eradicating blindness and work toward a bright future for the next generation.
Speciality:

Vitreo Retina [VR], Diabetic eye disease and Retinopathy, Advanced Cataract Surgery, LASIK/Refractive Surgery, Ophthalmology

Degrees:

Training:

Dr Sriprakash is an alumnus of the prestigious Bangalore Medical College. After having completed his M.B.B.S, he went on to complete his Master of Surgery in Ophthalmology in Minto Regional Institute of Ophthalmology, a tertiary eye care legacy hospital. Although extremely well versed in all areas of Ophthalmology, Dr Sriprakash found his calling in the field of Vitreo-retina and went on to train in Wills Eye Hospital and Scheie Eye Hospital in USA. He also extensively trained under the pioneer of pneumoretinopexy, Dr George F Hilton,which is a minimally invasive technique for retinal detachments.
Awards and
Honours
Outstanding Service in the Prevention of Blindness award by Asia-Pacific Ophthalmologic Society [APAO] in the year 2014

Official letter of appreciation by Governor of Karnataka for services rendered

Presented over 70 papers in International and National conferences

Numerous publications in international indexed journals

Chaired over 35 ophthalmic conferences